Plate Heat Exchanger CATALOG
Ekin Industrial Heating and Cooling, which is our registered brand "MIT" digital catalog of products to our valued clients with fast and secure, please click here to see our range of products ...
Area Of Usage / ENERGY
In residences and industry utility water is essential for comfort. With the help of MIT Plate Heat Exchangers, your utility water can be produced either centrally or individually.
close
Geotermal Heating Sysytems:
This new system is more hygienic, more efficient, long lasting, more economical and more compact.

With this new system, when liming or deformation due to over chlorine occurs, instead of changing system completely, with small revisions, your system can be reached its old performance.

Area Of Usage / INDUSTRY
In bloomeries, used oil gets hot and looses its lubricant function and so company performance goes down. To keep the bloomery oil in an optimum temperature, MIT Plate Heat EXchangers are used.
close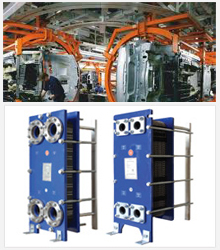 Cooling Rolling Press Oil:
With cooling tower, chiller circuit and a simple automation which are connected to Heat Exchanger's seconder circuit, rolling press oil stays desired temperature and your company works with maximum temperature.

Area Of Usage / MARINE
There are two types of cooling systems direct and two phase(indirect) cooling. Direct cooling is free of problems, and sutiable for engines that are originally designed as sea engines.
close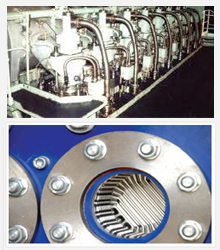 Ship Cooling Systems:
Cylinder blocks and other equipments having circulating water in it, are protected by compounds and zincs.

All external sea engines and small powerful internal enngines are made in this way.